RAINBOW GRAPHICS AWARDS, ACCOLADES & AFFILIATIONS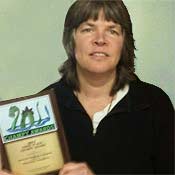 Rainbow Graphics Wins "Champy" Advertising Award May 4th at an Awards Ceremony in Plattsburgh, NY
SARANAC LAKE, NY - Rainbow Graphics, an award winning agency that offers printing, design & internet services, has been awarded for their outstanding advertising creativity from the SUNY Plattsburgh American Marketing Association's annual "Champy" Awards. The event was held May 2019 in Plattsburgh, NY.
Advertising Design Agencies from Northern New York and Vermont entered the 31st anniversary of the Champy Advertising Awards. Rainbow Graphics was awarded First Place plaque in Website Design/Digital.
The plaque, depicting the Lake Champlain's mythical sea creature, "Champy", was presented to Rainbow Graphics at the Marketing Association's year-end banquet in Plattsburgh.
Who is the American Marketing Association (AMA): They are the largest marketing association in North America. It is a professional association for individuals and organizations involved in the practice, teaching and study of marketing worldwide. It is a place where professional marketers go for information, resources, education, training and networking. AMA members are connected to nearly 40,000 professional marketers that include leading marketing academics, researchers and practitioners from every industry.
---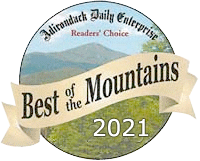 Consistently been awarded "The Best" or one of top three "The Best" since 1999 in Customer Service, Computer/Internet Services, Printing & Graphic Designer from The Adirondack "Best of The Mountains" Readers Choice Award
Get Started. Click here to begin!
RAINBOW GRAPHICS
Please let others know about us!
You are the visitor. Thank You for stopping by.